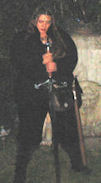 Site Admin
Posts: 182
Location: Seattle, WA
Joined: 24 Sep 2013, 19:00
Status/Identification: Gorean Free Woman
From CS

So, dude came into a chat room looking for wank fodder. One of the "I'm being blackmailed and have to do whatever anyone on here says in real life" idiots.

Naturally, I called it as attempted wankfodder gathering, and, in response to his statement that he had to do whatever anyone in the chat told him to do, told him to change his profile to reflect the truth and quit the BS. He immediately jumped into my PM... Name has been changed to protect the idiot




(My commentary like this)




Commentary = stuff I added for you, the readers, rather than part of the original message exchange.



[19:15:36] <

unborn lard herder

> i didn't even create this profile, but if in your sad world you want to believe i wrote that profile that is ok

[19:15:50] <

unborn lard herder

> oh but good girl for feeling so smart about trying to call it out

[19:16:09] <

unborn lard herder

> here's a doggy bone for your efforts

[19:16:24] <

unborn lard herder

> woof woof

[19:16:49] <

unborn lard herder

> you also need a pat on the head for the good deed haha

[19:17:09] <

unborn lard herder

> yes dumbass, do not post pm's



(I posted his little tantrum to the open room where I called his BS in the first place. He didn't like it, for some reason.)



[19:17:20] <

unborn lard herder

> ohhh noo now you don't feel smart. what ever are you going to do?

[19:25:44] <

unborn lard herder

> Hard to point with food in your hand we get it. But hey great job trying. Or are the fingers just too damn fat to move then?

[19:26:23] <

unborn lard herder

> Wait one more ok this is a good one i promise!

[19:26:53] <

unborn lard herder

> I get the spelling mistakes, it's beacuse I type fast. You'd understand that if you could do anything fast

[19:27:03] <

unborn lard herder

> But being such at fat ass I understand!

[19:36:25] <KhaosWolfKat> My goodness! Are you still trying to insult me?

[19:45:11] <KhaosWolfKat> Buh bye.



(And then he decided to move to CS email, since I hadn't responded promptly on chat.)





unborn lard herder

on 8/19/16 at 8:53 PM:
boo hoo
Please stop eating babies! Even Fat Bastard lost weight!

KhaosWolfKat on 8/17/16 at 3:15 PM:
Wow! Dude! Seriously?
You're still trying to get my attention? OK. You've got it now. Do you have anything new to say, or are you just going to keep up with the boring fat references?

You DO know, don't you, that immediately going on the offensive when you're caught out in your little charade just makes it obvious that I called it spot on?

Lets review, shall we?

• You claim that you didn't even create the profile, and you have no control over it, yet here you are, with access to the account. News flash! That means you have full access to the profile editing features.

• This very same, "I'm being blackmailed into doing X" crap has been pulled SO many times by dudes too ashamed of their own fantasies to be honest that it's ridiculous.

• You're not fooling anyone.

• You can't even come up with anything other than calling me fat and a dog to "support" your... whatever it is.

You should probably just give up now, before you embarrass yourself any further. Don't say I didn't warn you.



unborn lard herder

on 8/18/16 at 9:01 PM:


Tear drop



KhaosWolfKat on 8/19/16 at 11:31 AM:
What a brilliantly thought out response! Bravo.



unborn lard herder

on 8/19/16 at 8:53 PM:


boo hoo



KhaosWolfKat on 8/20/16 at 3:18 PM:
OK. Bored now. You have ceased to be even slightly entertaining. I shall now share this conversation and the preceding chat log with several thousand of my closest (internet) friends, so they can all mock and laugh at you. Enjoy!