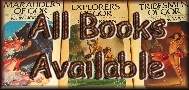 This page contains all the books I have up for sale right now.

If there is an X

in the price box, click on it to be taken to that book's auction page.

To order or make inquiries, fill out the contact form at the bottom of this page.

Detailed photos and decriptions available upon request. (example) To be notified anytime new books are in stock, subscribe to my newsletter.

Photo
Volume
Title
Publisher/Printing
Condition
Price
07
Captive of Gor
DEL REY/Ballantine, 1978
11th printing
Good
ON
HOLD
$5.00
08
Hunters of Gor
DAW, 1974
16th printing
Good to
Very
Good
ON
HOLD
$6.00
09
Marauders of Gor
Masquerade, 1998
*FIRST printing*
Good
ON
HOLD
$5.00
Other John Norman/Lange Books
Photo
Volume
Title
Publisher/Printing
Condition
Price
There is no "buy now" option on this page to avoid having more than one person order the same book at once. Orders are on a first come - first serve basis. Once requested, I will hold the title(s) for 24 hours after sending the invoice.
If you have not paid or contacted me within those 24 hours, you will lose your priority and risk having the book(s) sold out from under you.
Books will remain listed as available until I have recieved payment or you have made payment arrangements with me.
I apologize for any inconvenience this may cause, but it has become necessary due to the number of people who don't follow through.

SHIPPING
All books are shipped via USPS priority mail. Shipping for 1-4 books is $7.60. Depending on the thickness of books, up to 6 can sometimes be shipped for $7.60. It all depends on whether they will fit into a flat rate envelope. The next size box will hold 8-10 books, sometimes more, and the shipping cost is $14.60.





For other Gorean merchandise available through Gorean Living, click the button below