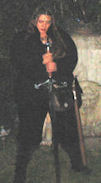 Site Admin
Posts: 182
Location: Seattle, WA
Joined: 24 Sep 2013, 19:00
Status/Identification: Gorean Free Woman
From FetLife



This one had just a five digit number as a username. I thought it might be a zip code, but apparently not. No clue if it's just random or what. I shall call them, "

RNG

".
Do take note of their alleged identification vs what they want from me.



(My commentary like this)




Commentary = stuff I added for you, the readers, rather than part of the original message exchange.



Subject: pan sexual


RNG


[almost 40]NB Domme
2d

Hi I am all over I am just looking for a poly pan sexual family of friends to be my self with single after 16 years so please don't be shy



KhaosWolfKat


50F Evolving
2d

Did you read my profile?



RNG


[almost 40]NB Domme
2d

Most of it did I miss



(So.. Maybe they aren't seeking what it looks like?)





KhaosWolfKat


50F Evolving
22h

So, maybe I misunderstood your first message. The wording is a little unclear.
What is it you are seeking from me, exactly?



RNG


[almost 40]NB Domme
22h

I would love to be your sissy submissive dress me an use me as your wish



(OR they meant exactly what it seemed. Check.)





KhaosWolfKat


50F Evolving
20h

I see.
So, you didn't read my profile at all.

Because if you had read "most of" my profile, like you said you did, you would have seen what I wrote about messaging me leading with sex or kink.

That means you are either a liar and you did NOT read my profile, or that you read it, but do not care about my clearly stated boundaries, or think they do not apply to you, suggesting you are entitled and selfish, at best.

So, which is it?
Are you a liar or an entitled, selfish, potential rapist?


You can't respond to this conversation because

RNG

has deactivated their account, you've blocked them, or they've blocked you.
(Was it something I said?)