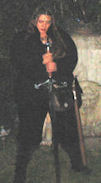 Site Admin
Posts: 182
Location: Seattle, WA
Joined: 24 Sep 2013, 19:00
Status/Identification: Gorean Free Woman


INGREDIENTS:
1-2 lbs beef (nearly any cut), cut into bite sized pieces
1/4 cup flour
2 Tbs peanut oil
a few dashes sesame oil
Beef stock to cover + more
1 large daikon, sliced somewhat thinly
2-4 cloves garlic, minced
3-4 scallions, sliced
about 1-2 Cups red/orange/yellow sweet peppers, chopped
a handfull or so shitake mushrooms (dried or fresh)
about 1 1/2 inch Ginger and/or Galangal root, sliced thinly
1/2 lb carrots, chopped (or whole baby carrots)
1 tsp Chinese 5 spice powder (more or less to taste)
1/4 tsp white sugar
Chili paste to taste (start small, add slowly)
1 Tbsp fish &/or oyster sauce
3 Tbsp thick soy sauce
4 stars anise
1 can diced or stewed tomatoes
1/4 cup rice wine (mirin works nicely)
a splash or two rice vinegar
2 tsp hoisin sauce (more or less to taste)

DIRECTIONS:
1. Dredge beef in flour.
2. Heat oils over med-high heat.
3. Sauté scallions, garlic, diakon, carrots, 5 spice, chili paste, sugar, and beef, stirring almost constantly until onions are tender and beef is browned.
4. Add remaining ingredients and bring to a boil.
5. Reduce heat to low, cover, and simmer until all veggies are tender, stirring occasionally.
6. Adjust spices to taste and serve.