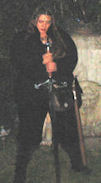 Site Admin
Posts: 182
Location: Seattle, WA
Joined: 24 Sep 2013, 19:00
Status/Identification: Gorean Free Woman
This was invented by my former owner, many years ago. I have permission to redistribute the recipe.

Ingredients:
1 1/2 lb onion, chopped or sliced
Other veggies (optional)
3 tbsp butter
2 Tbsp each chicken and beef bouillon
About 6 cups water
1 1/2 lb sour cream
1 tbsp Rum extract
5 smoked sausages (should be about 1 lb,) cut into disks about 1/4" thick
1 Cup orzo
12 oz shredded cheese (cheddar or colby work well)
Dave's Private Reserve to taste

Directions:
1. sauté onion and veggies in the butter, adding bouillon when onions start to clarify
2. add water, bring to a boil and add orzo; reduce to simmer
3. add sausage, finish pasta- this is a good time to add the Private Reserve also
4. when pasta is almost done, add sour cream, stirring all the while, until smoothly and evenly distributed
5. sprinkle in cheese, stirring soup constantly; remove pot from heat
6. enjoy!