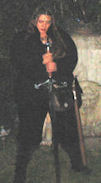 Site Admin
Posts: 182
Location: Seattle, WA
Joined: 24 Sep 2013, 19:00
Status/Identification: Gorean Free Woman
Here's a simply adorable attempt at "negging" from CollarSpace. His username indicates that he's a "tiger", so I decided to stick with something (kind of) close.



LoserLiger on 1/3/17 at 2:07 AM:

I tried to get through your profile, but in all honesty the overwhelming negativity of it was a bit of a turn off for me. I am 100% confidant you're not interested in any friendly advice from me, but I'm going to give it anyway: Rewrite your profile and instead of making it 99% about what you don't like, what you won't do, etc., etc., and instead show us the best of yourself and your personality. I find you physically/sexually attractive, and I can tell you're intelligent, but the profile SCREAMS "I'm not a happy person and you won't be either if you pick me." As a musician, my best tool/attribute is my ear, and I'm hearing a LOT of frustration, anger, and unhappiness in your 10,000 word "manifesto." (chuckle) Whether you're looking for a Dom, a sex partner, or even just a friend - people are attracted by the darkness, but they stick around for the light. I hope 2017 is great for you - you deserve it. (hugs you warmly and then strolls back into the green tiger jungle)

Oh...Here is my profile that is so full of negativity.


KhaosWolfKat on 1/3/17 at 6:21 PM:
Well hello there, and thanks for giving me what you were 100% confident I wouldn't be interested in! I could say something snarky about potential consent issues, however, I figured I'd keep this all friendly like.
Funny thing is, my profiles USED to be mostly about what I do want. That was before being inundated with literally hundreds of messages from asshats who inspired the very rules/warnings you see today.
I definitely have noticed some decline in messages from men since changing my approach, and I get a FAR more positive response from other women with my current profile, which is handy, since, as my profile clearly states, I am only seeking women!

I'm not putting myself out there in hopes that someone will "pick me". I have the profile there to weed out those who aren't worth my time at all, and to provide information upfront to anyone who wants to read that far.

I think you need to get your virtual ear calibrated, cause I'm a pretty happy person! I was happy as a single person, I'm happy as a poly partnered person and I'll be happy whether or not this profile lands me the perfect slave girl. I don't have time to waste on anger, resentment, or the like. There's far too much awesome in the world to exeprience.

2017 has only just started, so there's lots of room for all the greatness I expect.

Cheers,
~ Khaos

LoserLiger on 1/4/17 at 6:24 AM:

You're all I thought you'd be and even less. (lol) Keep believing that, but no one balloons up to 300 lbs. and writes all that negative bullshit and then is cool to hang out with - it's why you can't connect one-on-one in a fulfilling relationship and are regulated to poly - you're just a side peace. Enjoy being passed around, passed by, and passed over - you'll never be the alpha you're pretending to be. (chuckle) I gave it a shot, but honesty doesn't seem to penetrate your arrogant, fat layer of (zzzzzzzzz) uh... "khaos." (snicker)

I tried to reply and discovered.....
User has blocked you, mail not sent
What a shocker!!
Y'all get to read it anyway, and so does he, cause I also posted it to my CS journal! LOL. Watch him try to report me like the last person I did that to (with names changed, so no TOU ther eeither. LOL).

Awww.. That's so precious, sweetie! You've been watching those PUA videos that promised you their tactics work, haven't you?

I'm so sorry they lied to you.

The "subtle" negging didn't work, soooo.. cue the butthurt insults.
We went from, "I find you physically/sexually attractive", to fat, arrogant, passed over, etc. What a surprise!
I called that one.
To be fair, calling it isn't worth much when y'all are so predictable. Better luck next time, sparky.

Toodles,
~ Khaos


Poor, precious, little cupcake! I'm pretty sure he's also the offender in this post.