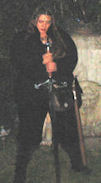 Site Admin
Posts: 182
Location: Seattle, WA
Joined: 24 Sep 2013, 19:00
Status/Identification: Gorean Free Woman
Here's the place to post unsolicited email, chat, IM, or similar logs from the trolls and clueless, along with your personal commentary or editorial comments, for the enjoyment of all and sundry. Please make ABSOLUTELY sure you read the specific rules for this section before posting, or you may be subject to moderator action.

These rules are in addition to the regular forum rules, found here.

• All logs must have identifying information of the other party removed. This includes:
- Name/Username
- Specific location
- Email addresses
- Phone Numbers
- Photos
- Anything else which could personally identify the individual to any un-involved party

• All logs must be the result of unsolicited messages.
This means that you cannot troll, bait, or otherwise entrap the other person into talking with you, for the purpose of posting here. Things that count as unsolicited are:

- Any completely unsolicited and unwanted message that is inappropriate, upsetting, offensive, or even just ridiculous or amusing.
- Abusive, rude, harassing, or otherwise inappropriate comments to your personal photos or journal/blog/status updates, and any subsequent discussion.
- Messages stemming from random friend requests.
- A major, unwanted/unsolicited shift in conversation topic initiated by the other party. (ie: You've been talking about the weather and motorcycles, and all of the sudden the person starts asking really personal, invasive questions, or trying to cyber with you)

• The message exchange must be an EXACT copy and paste. No editing out or changing anything, other than the required changing/removing of user information.
- Falsifying posted logs is cause for immediate banning.

Other than the directly quoted, original content from the "offending party" the following is prohibited:
• Hate speech of any kind. This includes derogatory language based upon a persons real or perceived:
- Gender or gender identification
- Sexual orientation
- Race, ethnicity, or national origin
- Creed, religion, belief system, or lack thereof
- Physical, mental, emotional, or any other disability
- Height, weight, body type, or other things not under the direct, immediate control of the person in question.

• Do not tell the OP that their post does not belong in RtS or that they responded incorrectly. If you feel a post genuinely does not belong in RtS, please message a mod with an explanation why and a link to the thread in question. Otherwise, please select a different thread to read.

• Special note to slaves: Even if the person is being insufferable, you must maintain your proper place. If you were actually rude to a free person at any point in an exchange, whether they "deserved" it or not, it may not be posted here. Period.