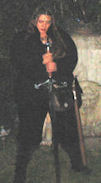 Site Admin
Posts: 182
Location: Seattle, WA
Joined: 24 Sep 2013, 19:00
Status/Identification: Gorean Free Woman
The first message is a comment (subsequently deleted for abuse of TOS) on this photo by some (at the time) slave, who got all butt-hurt because I told another slave who was being rude that they were being rude (in those words, with no profanity or insults), and refused to issue a public apology for "insulting" and "stepping on the rainbow" of said other slave, who wanted to be acknowledged as a "Panther Girl" online, because her master said she could be a Panther online in RP. This occurred on a discussion thread, and there was no role play involved.

so-called-slave 41F
Someplace in, Manitoba

Wow Talks about Being a BITCH clean the fuckingshit off your Own doorstep before you start on others , You wouldnt know how to be a Mistress if it bit you in the fucking asss pot calling the Kettle black ass considering the pics of you doing all of the gorean slave possitions NOW who is a SLAVE playing a Mistress

Me
Unlike many, I don't hide my past. So no, I didn't run and take down all my old pictures the moment I was freed. Nor would I take down my fat pictures if I lost a bunch of weight, or if I made any other significant changes.
There's quite a difference between not hiding one's past, whilst making it clear that it IS in the past (see every single caption on photos from when I was a slave, noting that they are old, along with the date I was freed. Not released, but freed. As in, returned to the status of free woman) and claiming to be a free woman "online", though owned and collared in real life.

Also, I have the decency to refrain from calling people names, cursing them out, or otherwise being a completely rude and uncouth person.
Yes, I drew a caricature depicting an incident in a humorous fashion. I didn't call anyone any names, nor did I make any accusations.

Perhaps you ought to learn some manners and grace before posting publicly again. Oh.. And I'd suggest brushing up on your spelling, grammar, and syntax as well. Just a friendly hint.

Cheers,
~ Khaos

so-called-slave 41F
Someplace in, Manitoba

awe did I hurt your wittle feelings to fucking bad your a Miserable Bitch who isn't happy unless your putting someone else down and that tells alot about you and None of it good.
You Slammed Me Right after My Huband had released and Freed Me just before He died , You are petty and Spred Lies and Rumors to make yorself feel better , your Mean and cruel to others all because you are so miserable that you have to make others just as Misreable you are PATHETIC ,You lied abour Me How many others have You lied about , It dont feel good to be called on them does it.
sooner of latter everyone is going to see you for what you really are
and Personaly I cant wait to watch then all turn away from the petty ,vendictive slave you are

so-called-slave 41F
Someplace in, Manitoba

Now little wanna be slave girl you will be blocked and Leave My slave alone too cause if you start harassing her then their will be hell to pay
You can't respond to this conversation because so-called-slave has deactivated their account, you've blocked them, or they've blocked you.
Note: I never made any claims about this person whatsoever, other than that she was out of line for calling down a free person (me) and demanding apologies because some slave got her undies in a twist, so I have no clue what she was on about with her talk about me slamming her, spreading rumours, or lying. My "horrible insult" is here, on the first @. The butthurt starts here, and the impetus for the drawing follows.