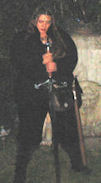 Site Admin
Posts: 182
Location: Seattle, WA
Joined: 24 Sep 2013, 19:00
Status/Identification: Gorean Free Woman
From _ORIGIN_

Here's a winning contribution from a contact form on one my websites. It qualifies for RTS because, even though the contact form IS for contacting, it specifically says NOT to use it for what he used it for, which makes it unsolicited.
Besides, it was too funny not to share!




(My commentary like this)




Commentary = stuff I added for you, the readers, rather than part of the original message exchange.



From:
Moronic Loser

subject:
i would like a Mistress in my area that is from (iL)
comment

I am a single virgin I am 44 will be soon 45 and I live in [place] town I wold like to get out of this place I am stuck in I am trying to find a way I would like to meet a sexy Mistres that live in my area between [place] town through springfield through Chicago or som wher ein between I do not have any money or credit cards bu ti would like to find a woman my age that is 44plus or 45 plus or 30-44-45 som I can date have a little sex may be a marriage and kids and more I do no t kn o wi will let it nbe her choice but she have a car a house so I can live with her I would like to be collared by her if she has another friend I will do both of them just let me know ok here is my email ok jus contact me ok it is [email address]



(Wowwwwwwww dude. Just wow. Seriously?)




On Wed, Dec 21, 2016 at 5:41 AM, KhaosWolfKat wrote:

No one wants a slave who can't or won't follow even the simplest of instructions. You failed.

Subject: Re: GL general contact
From: Moronic Loser
Date: Wed, December 21, 2016 5:59 am
To: KhaosWolfKat

I trying to tell you that I would liketo be a slave owned an d more but I need help to this story is true not make up I will be every thing if some one help me to get out of a stuck place in [place] I am gettied nand mad of explain this if nort what I will not get I am going to coomit suide or kill my self

On Wed, Dec 21, 2016 at 2:18 PM, KhaosWolfKat wrote:

Here is a copy and paste from the contact page you used to send your message:

"Please note that Gorean Living is NOT a personals or meetup site. Requests for assistance in finding a master/mistress/slave/free companion/etc will be ill received and/or simply ignored."

I don't run a dating site. GL is for Goreans and those interested in learning about Gorean philosophies and such, not for illiterate losers trying to get their dicks wet.

Since you seem to be determined to harm yourself, as shown by your statement that you plan to kill yourself if I don't find you a mistress, I feel it is necessary to forward your email and IP address to the proper authorities in your area for your own protection, so that you can be evaluated and get the mental health treatment you need.

Good luck,
~ Khaos



(I bet he was shitting his britches when he saw the bit about contacting the authorities! LOL.)



On Wed, Dec 21, 2016 at 2:25 PM, Moronic Loser wrote:

sorry I guess I was a little angry I wan t to a polize because I never had any sex where I live at and it is a long time because ei live in [place] through spring field though Chicago an di am 44 and pretty son I wil be 45 and I can not find any one and I do not have a credit card or gift card and where I am stying at my money is bing kept



(So... You have issues which require you to have a protective payee, because you can't be trusted to manage your finances yourself, and are most likely living in a group home of some kind, and think finding a "mistress" is your ticket out.)



Moronic Loser
and no one is telling me a thing how to contact a girl where I am at it is making me a little soar




(Oh poor baby.)



On Wed, Dec 21, 2016 at 5:04 PM, KhaosWolfKat wrote:

And this has what, exactly, to do with my web site? Does my site LOOK like a sex site to you?

Moronic Loser
I am looking for any thing and I am not any help where I am at



(Yeah. I get it. You're a desperate loser and you want me to help you get your dick wet. Not fucking happening, cupcake!)



On Fri, Dec 23, 2016 at 4:29 PM, KhaosWolfKat wrote:

Answer these questions:

Why did you contact me?
Why did you completely disregard the note on the contact page that says NOT to use it for trying to find a partner/owner?
Are you stupid?

Moronic Loser
ok thanks any way



He FINALLY figures it out!!