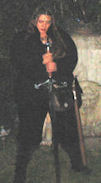 Site Admin
Posts: 182
Location: Seattle, WA
Joined: 24 Sep 2013, 19:00
Status/Identification: Gorean Free Woman
From what I can tell, the tospit is most like a lemon, especially considering that they are taken to sea to prevent nutritional deficiency!
"They are commonly used, sliced and sweetened with honey, and in syrups, and to flavor, with their juices, a variety of dishes. They are also excellent in the prevention of nutritional deficiencies at sea, in long voyages, containing, I expect, a great deal of vitamin C. They are sometimes called the seaman's larma." -Marauders of Gor, pg 102



Creamed Tospit Vulo Soup


(Greek Avgolemono Soup with chicken added)

Ingredients:
8 cups chicken broth
3 medium eggs
½ cup rice
juice from 2 lemons
salt
leftover roast chicken (as much as you have/to taste)

Directions
1. Bring chicken broth to a boil. Salt to taste
2. Add rice, lower heat, cover and simmer for 20 minutes
3. Add shredded or chopped roast chicken.
4. Remove from fire
5. In a blender or with a mixer, beat 3 eggs. While still blending/mixing, VERY slowly add the lemon juice to the eggs.
6. Slowly add one cup of cooled chicken broth. DO NOT stop blending or the eggs will curdle
7. when the eggs and broth are well mixed, pour mixture back into the remaining broth and rice
8. Stir well over heat, but do not allow to boil
9. Serve hot.