[back to Wolf Den page]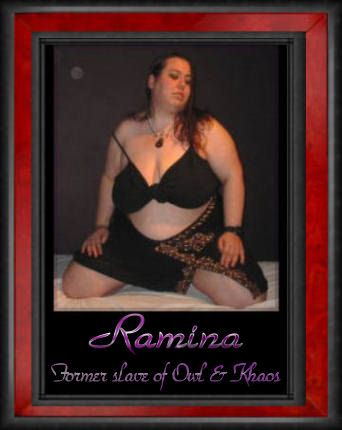 Ramina
25 March, 1980 ~ 18 February, 2011


Last updated: 2013, 24 January
---
Update: 2013, 24 January
I am now in the process of working on getting Ramina's website back up. She created it in 2008, but had to take down for professional reasons for a time. The files were lost sometime after she took her site down, including the backup I had made for her, but I was able to recover a good deal of the source code from backup archives. Most of the images are missing from the archive pages, since the files themselves were not archived. Fortunately, almost all of the photos she uesd there were ones I had taken, so I have copies of them. She had renamed most of them for using on her site, so I have to research to put the right photos with the right captions (from memory and from picture dimention and other information which WAS archived). What that means in short, is that it may take a while for it to be complete, with all the available images and links working. I will update here when it is done. She was still working on the site, so some portions of it will remain unfinished.

I also do still plan on making this page more of a substantial memorial page for her, but please, give me time. It still hurts. A lot. I can only work on this stuff.. her photos.. her life.. her essense, for so long at a time before I have to take a break for my own sanity.

I wish you well,
~ Khaos WolfKat

---
Update: 2011, 31 July
Our Ramina was taken from us on 18 February, 2011... far too soon!
At the time she left this plane, she was collared again to a former master - a man called Sandor, and had been looking forward to returning to his home in Ohio once she completed the things he required of her in order to do that. The collar and lock was mailed to him, and her old nametag, from when she was Khaos' girl, which she had kept as a keepsake was given to Khaos. This page will remain as a tribute to her and her life, and additional information - her story and memories from those of us who loved her - will be added at some point in the future. For now, we need time to grieve and come to terms with her loss.
You were much loved, girl, and will be deeply missed forever.

---
Update: 2007, 28 December
Ramina was released from Master's collar on December 22, 2007, but she is still an important part of our family and under our protection.

---
Ramina was collared as the second girl of the house of Owl (AKA The Wolf Den) on March 12, 2005.

Initially, she was too terribly damaged to trust a man at all, but so adrift without a collar that she really needed *something*, so Master decided to obtain her as a pet for me. This way, she could be safe in the knowlege that she was not just roaming aimlessly, but she would answer to me in most things, with Master having the final say, of course, but without her having to deal directly with him too much.

Additional details about this slave can be found on her personal web page, devotedkajira and at the following links.



[back to Wolf Den page]