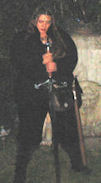 Site Admin
Posts: 182
Location: Seattle, WA
Joined: 24 Sep 2013, 19:00
Status/Identification: Gorean Free Woman
From CS Mail, meaning that all manner of punctuation and parts of words that the mail system even thinks might be posting a url is edited out, so a lot of the funky formatting, missing parts of words, and lack of punctuation is due to that.

His profile was all about how he is "in a long term platonic marriage" and what "naughty and exciting" things he wants to do with/to women for "recreation".

Of course, " Discretion is a must." AKA - his "platonic" wife doesn't know he's fucking around. Pro-tip, dumbass: If you have to hide it, then your marriage is not platonic. I do not think it means what you think it means (or what you are trying to convince would be cheating partners it means).

[his alleged name + random numbers] on 2/21/18 at 11:02 AM:

I'm [name], [late 50s], and looking for a friend to explore erotic, taboo fantasies and other naughty things on the phone. We can also talk about desires you may want to explore in fantasy but not in real life, perverted and kinky too. I can give my number (you call and block your number) and I have many fantasies and fetishes to share, interested?


KhaosWolfKat on 2/28/18 at 5:33 PM:
The Fetish Delivery System you were looking for is out of order. Please read the recipient's profile and then choose one of the following options to continue.

Enter 1 to try again - this time, treating the recipient as a human being, rather than an on-demand sex/kink/wank fodder dispenser.

Enter 2 to become enraged and call the recipient one, or more, of the following: bitch, cunt, fat, ugly, stupid or fake.

Enter 3 to admit this was an obvious, poorly written, copy and paste message you sent to every woman you could find.

Enter 4 to subscribe to the recipient randomly sending you shit you don't care about and in which you have no interest.

Enter 5 to go away and try your bullshit somewhere else.

Enter 6 if you would like to donate to a charity of recipient's choice in apology for not bothering to read profiles and barging dick first into the recipient's inbox.

Enter 7 if there were too many big words in this message and you need to come back later after you find someone to read it to you.

To repeat these options, read it again.

PS: I hope your wife catches you in your pathetic attempts to cheat on her and kicks your sorry arse to the curb. I'm sure she deserves better than you!