[back to Wolf Den page]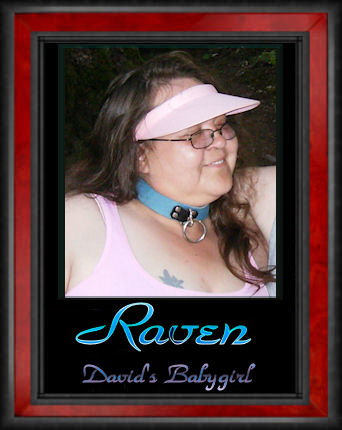 Email Raven
Last updated: 2014.05.17
Raven is David's life partner, fiancée, and babygirl. As David is, himself, property, he does not technially own her, as such, since all that was his property now belongs to Khaos, but for all intents and purposes, she is his. To that end, issues regarding her can be taken either to Khaos or David.

She is not Gorean, but understands how things work in my household and fits well within that framework. She is a submissive and a little, so not free, yet not exactly a slave either. She is, therefore, not held to the same standards as a kajira would be. That said, she is the low girlie on the totem pole, since she answers to a slave. It may seem a complicated arrangement to some, but it works for our family.
Besides, I'm quite fond of her and enjoy having her about!

For the moment, Raven is still in Southern Illinois, but should be here in Seattle this summer (2014). She came to us for a month long visit last September as a "trial run", and it went wonderfully! We were planning on and looking forward to having her here permenantly last December, but an unexpected, life threatening illness delayed that by quite a bit. We are delighted that she is now recovered enough to be cleared for travel and will be home, where she belongs soon!


In Her Own Words...
More will be added to her bio once her schedule permits her to write it up.

[back to Wolf Den page]