[back to Wolf Den page]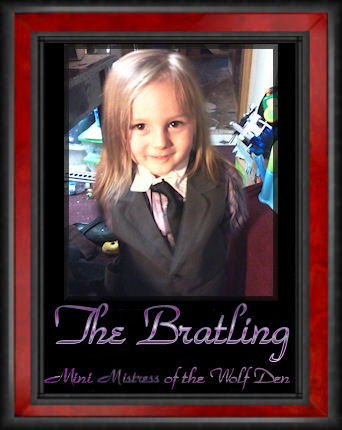 Email the Bratling
(Emails will go to her mom and grandma, to be read to her. Replies will be dictated by her, if she wishes to reply.)

Last updated: 2013.05.20


The Bratling, whose real name is ommitted for obvious reasons, is daughter of Mandy and granddaughter of Khaos. She definitely thinks she runs things around the Wolf Den, and has to be called down at times for trying to order slaves about. She isn't allowed to do that, as they are still grownups! LOL.

In her Own Words...
Television and Movies
I like to watch Spiderman, Spongebob, Ironman, Beauty and the Beast, Wild Kratts, Superman, Batman, Doctor Who, Bones, Hurcules, Pokemon, Bionicles, football, baseball, soccer, and robot shows.

Food and Drinks

My favourite things to eat are yogurt, ribs from a cow (I like ribs!), salad, granola, strawberries, blueberries, blackberries, and all kinds of berries. I like peanut butter sandwiches too.
I like to drink milk and juice.

Toys and Games

I like to play Disney Princess Candyland, Scooby Doo Snakes and Ladders, and my Angry Birds, Thomas the Tank Engine, and Fruit Ninga card games.
My favourite toys are the tractor at my day care, Thomas toys, my Harley Spiderman trike, Ironman, my babies, my shopping cart, and my fishing pole and fish, and my grabber tool too.

Other stuff

My favourite colour is RED!
I like to go camping. I like to take a vitamin every day. I like going to the Longhouse and Grandma's house and Grampy's (great grandpa - Khaos's dad) house. I like dogs and kitties and rats and horses. There were some horses at the Pride Parade and I got to pet them. They were very tall horses!



[back to Wolf Den page]





---
*NOTICE*
This site and all its contents are copyrighted and the property of Gorean Living/Khaos WolfKat, except where otherwise noted. If you wish to use anything contained here, please email me and ask. If you see contents of this site posted elsewhere, other than by the author, please let me know!